Stourbridge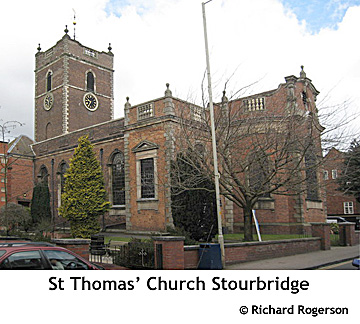 Quick Links
Location
O.S. Ref: SO908832
On the far south-western side of the West Midlands conurbation, approximately 12 miles west of central Birmingham on the A458
Ecclesiastical Jurisdiction
Archdeaconry & Diocese of Worcester until 1973, Archdeaconry of Dudley & Diocese of Worcester ( 1974 - *) [25]
Census Records
All the censuses between 1841 and 1901 are now available on a number of fee-paying (Subscription or PayAsYouGo) sites including Ancestry.co.uk, FindMyPast.co.uk, thegenealogist.co.uk and genesreunited.co.uk. The 1911 census is available in full or in part on some of these sites. We are unable to advise on the choice of site since researchers' personal preferences will be influenced by the content and search facilities offered by each site. Some sites offer a free trial.
Access to the library edition of Ancestry.co.uk is widely available at most record offices, including Worcestershire Archives, and some libraries. You are advised to book time on their computers before making a visit.
A free-to-view site is being developed at freecen.org.uk for the 1841, 1851, 1861, 1871 and 1891 censuses. Coverage of Worcestershire parishes is rather sparse at this time.
Census returns can usually be viewed at Church of Jesus Christ of Latter Day Saints' Family History Centres.
Some repositories offer census details on microform, disc or printed copy. These include:
Stourbridge - 1851 Census (Transcript & Surname Index) BMSGH Shop
The Stourbridge census is a very large one, containing data on 20,000 persons. Hence it is produced in three parts:
Part 1 Vol. 1. PRO. Ref HO107/2035 Stourbridge Town (Book) BMSGH Shop
Part 2 Vol. 1 PRO. Ref HO107/2035 covers the Enumeration districts of Stourbridge (part), Lye & Wollaston (fiche) BMSGH Shop
Part 3 Vol. 1 PRO. Ref HO107/2035 covers the Enumeration districts of Wollaston, Wollescote, Upper Swinford & Amblecote BMSGH Shop
1841-1901 at Worcestershire Archives [14]
1891 Stourbridge Workhouse Worcestershire Archives [14]
At Society of Genealogists:-
1851 census Worcestershire, vol. 1 Stourbridge, part 1 transcript & surname index, addendum index - Published Birmingham : Birmingham & Midland Society for Genealogy & Heraldry, 1996 - Author Friend, A F
1851 census Worcestershire, vol. 1 Stourbridge RD, part 2 Stourbridge sub-district including Wollaston, Wollescote, Upper Swinford, Amblecote [transcript & surname index HO 107/2035] - Published Birmingham : Birmingham & Midland Society for Genealogy & Heraldry, 1996 - Author: Friend, A F
Worcestershire 1851 census returns : Stourbridge registration district HO 107/2034-2036 [Microfilm.] - Published London : Public Record Office, 1996
Worcestershire 1861 census returns : Stourbridge registration district RG/9 2063-2074 [Microfilm.] - Published London : Public Record Office, 1996
Worcestershire 1891 census returns: Stourbridge registration district RG 12/2299-2310 [Microfilm.] - Published London Public Record Office 2003
Schools Records
The following school records are original documents. Note reference number and contact staff at Worcestershire Archives:
Enville Street Council Girls School
Log book - 1904-29 - Ref: BA 1312/1
Hill Street School
Log book - 1878-1938 - Ref: BA 1017/30
King Edward's School
Photograph of staff and pupils - 1929 - Ref: BA 4380/42
The records of schools and other educational establishments in this parish are detailed in a handlist available at Worcestershire Archives. The list refers to original documents so you will need to note the reference number and contact staff.
Other Sources
A descriptive account of Stourbridge illustrated [Photocopy] Published Brighton W T Pike & Co. 1894
The history of King Edward's School Stourbridge Published Stourbridge, 1988 Author Chambers, R
Directories
An extract from the Topographical Dictionary of England 1831 by Samuel Lewis:
STOURBRIDGE, a market town in that part of the parish of OLD SWINFORD which is in the lower division of the hundred of HALFSHIRE, county of WORCESTER, 21 miles (N. by E.) from Worcester, and 124 (N.W.) from London, containing 5090 inhabitants. This place, originally called Bedcote (the manor still retaining that name), derives its present appellation from the erection of a bridge, about the time of Henry VI, across the small river Stour, which here separates the counties of Worcester and Stafford.
The surrounding country abounds with coal and iron stone, the mines of which appear, by a manuscript in the possession of the Lyttelton family, to have been worked so early as the reign of Edward III; and the manufacture of glass was established here in 1557, about the period it was introduced into this country from Lorraine.
The town consists chiefly of one long street, called the High-street, which is well flagged and Macadamized, and the lower; part spacious, and containing some good houses; the, upper is somewhat narrow. A subscription library was established in 1790: it contains about three thousand volumes, and is under the management of a president and a committee of twelve members: Parkes, the self-taught and celebrated chemist, was the first president.There are races on two days in the last week in August, during which the theatre, a small and mean looking building, is open; assemblies are held monthly during the season.
The principal branches of trade and manufacture are those of glass, iron, and fire-bricks: the first is now carried on to a very great extent, there being twelve houses in the immediate neighbourhood in which the different varieties of flint, crown, bottle, and window glass are manufactured, besides several cutting-mills. The flourishing state of this branch of manufacture is chiefly owing to the plentiful supply of fuel, and to the existence, near the town, of that superior species of clay used in making glass-house pots, crucibles, and fire-bricks, which is found here in large quantities, and furnishes a considerable article of export, by the name of " Stourbridge fire clay:" the best lies at about one hundred and fifty feet below the surface of the earth, in strata of three or four feet thick, in the compass of about two hundred acres, near the town: large quantities of these fire-bricks are made, and sent to London and other places. The manufacture of iron forms also a most important branch of the trade of this town and neighbourhood, and the manufactories are generally on a most extensive scale, particularly that of Bradley and Co., which covers nearly four acres, and gives employment usually to about one thousand men: nearly every article in wrought or cast iron is here manufactured, comprehending in the foundry, steam engines, boilers, gasometers, and every description of heavy machinery; the bearers, roofs, and fireproof, guards belonging to the custom-house, the new post office, and the recently erected portion of the British Museum, were cast here : in the wrought-iron manufactory are made merchant, wire, and sheet, iron; hoops; nail-rods; small rounds and squares, &c. In the other manufactories are made the various articles of hammered iron, besides scythes, spades, anvils and vices, plantation tools, chains, called gearing, &c.; but that branch of the trade which is carried on to the largest extent is the making of nails, which, in the town and neighbourhood, affords employment to some thousand men, women, and children. The trading interests are greatly benefited by a canal, which, running from the town to the Staffordshire and Worcestershire canal, connects it with that extensive line of inland navigation which spreads in various branches over-the mining and manufacturing districts of the country, arid also with the Severn, affording an opening for the transit of goods to all parts of the kingdom.
The market, granted in 1486, by Henry VII, is on Friday, and is well attended: the market- house, recently erected, at an expense of about £ 15,000, is a handsome brick building; the principal front, looking towards the High-street, is stuccoed, in the Doric order of architecture: it consists of a spacious triangle, the sides being formed by an arcade, under which those who attend the market expose their goods for sale ; the area in the centre is left open, and that portion of the front not occupied by the entrance is disposed in shops. The fairs are on the 29th of March and 8th of September; the former, which continues seven days, is a celebrated horse fair; the latter is for horses, horned cattle, sheep, and pedlary.
A court of requests, for the recovery of debts under 40s., the jurisdiction of which extends over the parish of Old Swinford, is held here.
An episcopal chapel, dedicated to St. Thomas, was erected, by subscription among the inhabitants, under an act of parliament obtained about a century since; it is a neat brick edifice, with a square tower, and is not within the jurisdiction of the bishop; the inhabitants possess the power of appointing the minister. There are places of worship for Baptists, the Society of Friends, Independents, Wesleyan Methodists, Presbyterians, and Roman Catholics.
The free grammar school was founded and endowed by letters patent, granted in 1553, by Edward VI: it has a very considerable endowment, from which £150 is paid to the head-master, and £90 to the second master; the remainder, according to a special clause in the deed of endowment, after deducting for repairs of the school, &c., is divided between them; each master has also a good rent-free residence. The government is vested in eight of the principal inhabitants, who are a body corporate, and elect the masters. For several years there were no pupils on the foundation, but at present there are a few: attached to the school is a library of ancient books. Dr. Johnson received the rudiments of his education in this school until he was fifteen years of age; but the report of his having been a candidate for the head-mastership is void of truth. A National school was erected in 1815, and is supported by voluntary contributions; nearly three hundred children are instructed in it, and it is also used as a Sunday school.
This town has the privilege of sending four boys to a noble institution called the Blue-coat hospital, founded by Thomas Foley, Esq.; and it also participates in the advantages of the endowments of John Wheeler and Henry Glover; but as these institutions are for the benefit of the parish generally, an account of them will be given under the article OLD SWINFORD. There are twenty-two friendly societies, composed of about one thousand five hundred members, who assemble on Whit-Monday, and proceed to church, with banners and music. In a sandy tract of ground to the westward of the town, numerous detached portions of jasper, porphyry, rock-salt, granite, chalcedony, agate, cornelian, and several varieties of marble, supposed to be diluvial remains, have been discovered.
Last Updated: 02/11/2016