Staunton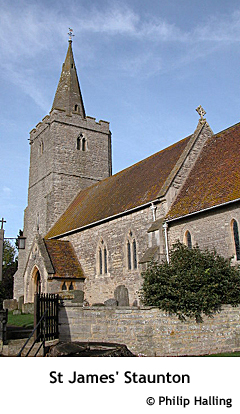 Quick Links
Ecclesiastical Jurisdiction
Archdeaconry & Diocese of Worcester until 1952, Diocese of Gloucester (1952 - *)[25]
Adjoining Parishes
Eldersfield; Corse (Gloucestershire); Hartpury (Gloucestershire); Upleadon (Gloucestershire); Pauntley (Gloucestershire); Redmarley D'Abitot [1]
Parish Registers at Worcestershire Archives
[Contact details]
No Parish Registers held at Worcestershire Archives
Register Copies
Christenings 1559-1879, Marriages 1559-1837, Burials 1559-1916 Gloucestershire Archives
Gloucesterhire FHS marriage index: 1800-37 Gloucestershire Archives

STAUNTON NEAR LEDBURY (St. James) : Marriages 1800-37 [Typescript.] Published , 1981 Author Gloucestershire FHS (transcription.) Source D: Gloucestershire FHS Society of Genealogists [68]

At [FreeREG]
Free Internet searches of baptism, marriage and burial records, transcribed from parish and non-conformist registers of the U.K., are available at: http://www.freereg.org.uk/cgi/Search.pl
FreeREG is a new project. The database currently contains a few million records only, so you should not expect to find all your ancestors in the database.

The coverage for this parish currently stands at: Christenings: 1559-1879 Marriages: 1559-1837 Burials: 1559-1917
Further records may have been added since this posting
Census Records
All the censuses between 1841 and 1901 are now available on a number of fee-paying (Subscription or PayAsYouGo) sites including Ancestry.co.uk, FindMyPast.co.uk, thegenealogist.co.uk and genesreunited.co.uk. The 1911 census is available in full or in part on some of these sites. We are unable to advise on the choice of site since researchers' personal preferences will be influenced by the content and search facilities offered by each site. Some sites offer a free trial.
Access to the library edition of Ancestry.co.uk is widely available at most record offices, including Worcestershire Archives, and some libraries. You are advised to book time on their computers before making a visit.
A free-to-view site is being developed at freecen.org.uk for the 1841, 1851, 1861, 1871 and 1891 censuses. Coverage of Worcestershire parishes is rather sparse at this time.
Census returns can usually be viewed at Church of Jesus Christ of Latter Day Saints' Family History Centres.
Some repositories offer census details on microform, disc or printed copy. These include:
1841 1901 at Worcestershire Archives [14]
18511861 - 91 Gloucestershire Archives
Schools Records
The records of schools and other educational establishments in this parish are detailed in a handlist available at Worcestershire Archives. The list refers to original documents so you will need to note the reference number and contact staff.
Directories
An extract from the Topographical Dictionary of England 1831 by Samuel Lewis:
STAUNTON, a parish forming, with the parishes of Chaseley and Eldersfield, a distinct portion of the lower division of the hundred of PERSHORE, county of WORCESTER, 6 miles (N.E. by E.) from Newent, containing 308 inhabitants. The living is a rectory, in the archdeaconry and diocese of Worcester, rated in the king's books at £ 11. 5., and in the patronage of Joseph Hill, Esq. The church, dedicated to St. James, is partly in the decorated, and partly in the later, style of English architecture, with a tower and spire.
Last Updated: 28/01/2016