Pershore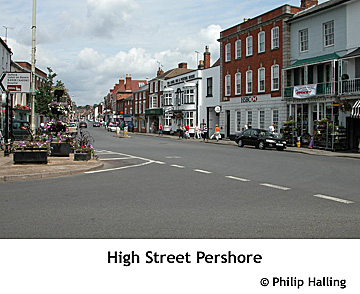 Quick Links
War Memorials
For the names of those included on a War Memorial at Pershore High School see:
http://www.rememberthefallen.co.uk/memorial/pershore-high-school/
For the names of those included on a War Memorial for Pershore Church of England School now in Pershore Working Men's Club see:
http://www.rememberthefallen.co.uk/memorial/pershore-c-of-e-school-now-in-pershore-working-mens-club/
For the graves of WW1 and WW2 casualties in the war graves plot in Pershore cemetery see:
http://www.rememberthefallen.co.uk/memorial/pershore-cemetery/
Wellington bomber crash at Pershore
On 29th May 1943, one of the most memorable aircraft crashes took place during Pershore's 'Wings for Victory' fund-raising activities.
An organised fly-past was arranged by the Commander of RAF Pershore in which 11 Wellington Bomber crews took part. F/O G S Hynam DFC (RCAF) and Sgt B E Zoeller (RAF) were piloting X3704 and 3 ground crew had gone along for the ride - Corporal Allen, Aircraftsmen Bande and Garvell. The Starboard Wing fell off approximately over the Cricket pitch taking the engine with it. The plane took parts off the chimney pots off one side of Bridge Street before crashing through the roof of the Brandy Cask hotel (as it was in those days) and landed in between the gardens of the Star Hotel & Brandy Cask. The plane burst into flames and all 5 crew perished, despite many people running to help.
Graham Hynam & Peter Zoeller were buried at Pershore Cemetery with full military honours. (pershoremilitarygraves.webeden.co.uk )
In 2001, Pershore Civic Society erected a blue plaque in their memory onto the wall of the pub. A memorial plaque to the five crew members who died in a Wellington bomber crash on 29th May 1943 is on the wall of The Brandy Cask pub. See:
http://www.rememberthefallen.co.uk/memorial/pershore-wellington-bomber-crash/
Census Records
All the censuses between 1841 and 1901 are now available on a number of fee-paying (Subscription or PayAsYouGo) sites including Ancestry.co.uk, FindMyPast.co.uk, thegenealogist.co.uk and genesreunited.co.uk. The 1911 census is available in full or in part on some of these sites. We are unable to advise on the choice of site since researchers' personal preferences will be influenced by the content and search facilities offered by each site. Some sites offer a free trial.
Access to the library edition of Ancestry.co.uk is widely available at most record offices, including Worcestershire Archives, and some libraries. You are advised to book time on their computers before making a visit.
A free-to-view site is being developed at freecen.org.uk for the 1841, 1851, 1861, 1871 and 1891 censuses. Coverage of Worcestershire parishes is rather sparse at this time.
Census returns can usually be viewed at Church of Jesus Christ of Latter Day Saints' Family History Centres.
Some repositories offer census details on microform, disc or printed copy. These include:
1891 Pershore Workhouse at Worcestershire Archives [14]
At Society of Genealogists:-
Worcestershire 1851 census index HO 107/2045 : Pershore registration district [Microfiche.] - Published , 1997 - Author: Friend, A F (trans.)
Worcestershire 1851 census returns : Pershore registration district HO 107/2045 [Microfilm.] - Published London : Public Record Office, 1996
Worcestershire 1861 census returns : Pershore registration district RG/9 2104-2107 [Microfilm.] - Published London : Public Record Office, 1996
Worcestershire 1891 census returns: Pershore registration district RG 12/2338-2340 [Microfilm.] - Published London Public Record Office 2003
Manorial Records
Worcestershire Archives [50]
Binholme: Court roll 1664-1701
Pensham: Court roll 1664-1701
Pershore Portsmouth: Court roll 1664-1701
Schools Records
The records of schools and other educational establishments in this parish are detailed in a handlist available at Worcestershire Archives. The list refers to original documents so you will need to note the reference number and contact staff.
Other Sources
Pershore : a short history Published Pershore, Worcs 1972 Source D: L Weinstein. Society of Genealogists
Directories
An extract from the Topographical Dictionary of England 1831 by Samuel Lewis:
PERSHORE, a market town, partly in the parish of ST. ANDREW, and partly in that of HOLY CROSS, upper division of the hundred of PERSHORE, county of WORCESTER, 9 miles (S. E.) from Worcester, and 102 (N.W. by W.) from. London, containing, exclusively of those portions of the parishes which are without the town, 2328 inhabitants. The name of this place, variously spelt Persore, Pearshore, and Pershore, is supposed by Camden to be derived from Periscoran, in allusion to the numerous pear-trees which grew in the vicinity.
A convent was founded here, according to William of Malmesbury, by Egelward, Duke of Dorset, or according to others, by Oswald, nephew of Etheldred, King of Mercia, about 689, for Secular clerks. It was remodelled by Edgar, as a monastery for Benedictine monks, about 984, and dedicated to the Virgin Mary, St. Peter, and St. Paul, and afterwards to Edburga, eighth daughter of Edward the Elder. The buildings suffered repeatedly from fire especially in 1287, when a considerable part of the town was also destroyed: at the dissolution its revenue was valued at £666. 13. The only remains are the church of the Holy Cross, and the Abbey house, the latter having undergone such alterations that every vestige of its ancient character has been removed.
The town is pleasantly situated on the lower road from Worcester to London, and on the western bank of the river Avon, which is here navigable, and is crossed by a bridge on the south. The principal street is about three quarters of a mile in length; it is well paved and the houses are of respectable appearance. There is a manufactory for stockings, and two for watch mainsprings. The market is on Tuesday: fairs are held on Easter Tuesday, June 26th, first Monday in August, and on the Tuesday before November 1st.
This town returned two burgesses to parliament in the reign of Edward I, since which period the privilege has been discontinued. As to all civil jurisdiction the parishes of St. Andrew and Holy Cross are absolutely distinct; each having its own officers: the former includes the chapelries of Bricklehampton, Defford, Penvin, and Wick, and the hamlet of Pensham ; and the latter the hamlets of Wadhorough and Walcott.
The living of St. Andrew's is a discharged vicarage; in the archdeaconry and diocese of Worcester, rated in the king's books at £ 8.19. 2 and in the patronage of the Dean and Chapter of Westminster. The church consists of a choir and south transept, the remains of a noble cruciform church, and is partly in the Norman, but principally in the early English, style of architecture. The church of the Holy Cross is in the later English style, and was formerly conventual, having belonged to the abbey: the living is held as a curacy, with the vicarage of St. Andrew's : both are subject to the jurisdiction of the Archdeacon of Worcester. There is a place of worship for Baptists.
Last Updated: 30/10/2016