Moor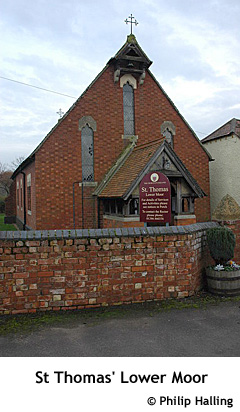 Quick Links
Parish Church
Chapel: St. Thomas, a chapelry of St John the Baptist, Fladbury
Hundred
Middle Oswaldslow [44]
Poor Law Union
Pershore [3]
Parish Registers at Worcestershire Archives
| | | Coverage | Source |
| --- | --- | --- | --- |
| Microform | Christenings | 1670-1812 | [5] |
| | Marriages | See FLADBURY | [5] |
| | Burials | 1670-1812 | [5] |

Some entries for Moor are included in Fladbury Parish Registers. It is not always possible to distinguish clearly those for Moor, especially for marriages.[5]
Directories
An extract from the Topographical Dictionary of England 1831 by Samuel Lewis:

MOOR, a joint township with Hill, in the parish of FLADBURY, middle division of the hundred of OSWALDSLOW, county of WORCESTER , 3 miles (E. by N.) from Pershore. The population is returned with Hill.
Last Updated: 21/07/2012