Marlborough in the Vines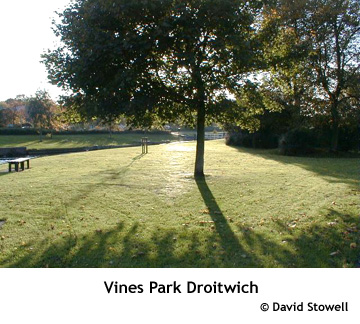 Quick Links
Status
Extra-parochial / Civil Parish
Extra-parochial place and a separate Civil Parish in 1858. Abolished civilly in 1884 entirely to Droitwich St Nicholas Ancient Parish.[25]

Marlborough, lately (1884) annexed to St. Nicholas under the Divided Parishes Act, was constituted a parish, under the Act 20 Vict. c.19, in the hundred of Upper Halfshire and Parliamentary borough of Droitwich, but not within the municipal borough: it consists of two small detached places, one of six houses, situated in the Hill End, and another, situated in the Vines, comprising a salt work and four cottages. [57]
Census Records
All the censuses between 1841 and 1901 are now available on a number of fee-paying (Subscription or PayAsYouGo) sites including Ancestry.co.uk, FindMyPast.co.uk, thegenealogist.co.uk and genesreunited.co.uk. The 1911 census is available in full or in part on some of these sites. We are unable to advise on the choice of site since researchers' personal preferences will be influenced by the content and search facilities offered by each site. Some sites offer a free trial.
Access to the library edition of Ancestry.co.uk is widely available at most record offices, including Worcestershire Archives, and some libraries. You are advised to book time on their computers before making a visit.
A free-to-view site is being developed at freecen.org.uk for the 1841, 1851, 1861, 1871 and 1891 censuses. Coverage of Worcestershire parishes is rather sparse at this time.
Census returns can usually be viewed at Church of Jesus Christ of Latter Day Saints' Family History Centres.
Some repositories offer census details on microform, disc or printed copy. These include:
1861 at Worcestershire Archives [14]
Last Updated: 01/08/2012