Little Washbourne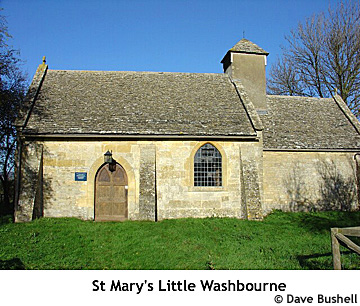 Quick Links
Status
A hamlet in Overbury Ancient Parish (Worcestershire). A former tithing of Overbury, it was transferred for civil purposes to Gloucestershire in 1844. It was a separate Civil Parish in 1866. Abolished in 1935 entirely to Dumbleton Ancient Parish.[25]
Parish Church
St.Mary, Little Washbourne (O.S. Ref: SO989334)
The church was declared redundant on 26 September 1974 and is now in the care of the Churches Conservation Trust [80]

Hidden in an orchard with views of the Cotswolds and Bredon Hill, the setting of Little Washbourne church is very beautiful. The walls are of warm local stone with Cotswold slate roofs to match and, though considerably rebuilt over the years, the structure is largely Norman. Inside is a remarkably complete and elegant 18th century scheme of furnishing: with a fine altar table, box pews and pulpit with its tester, uniformly and very stylishly panelled, and all lit through clear 18th century windows. [40]
Adjoining Parishes
Beckford (Gloucestershire); Great Washbourne (Gloucestershire); Alderton (Gloucestershire); Alstone (Gloucestershire) [1]
Parish Registers at Worcestershire Archives
| | | Coverage | Source |
| --- | --- | --- | --- |
| Microform | Christenings | 1813-1981 | [5] |
| | Marriages | 1841-1959 | [5] |
International Genealogical Index (IGI)
| | | |
| --- | --- | --- |
| | | Coverage |
| Parish Registers | Births / Christenings | 1789-1811; 1813-77 |
Register Copies
WASHBOURNE, LITTLE : Christenings 1813-1981 [Microfilm.] Published Salt Lake City : Genealogical Society of Utah, 1984 Society of Genealogists [68]
Census Records
All the censuses between 1841 and 1901 are now available on a number of fee-paying (Subscription or PayAsYouGo) sites including Ancestry.co.uk, FindMyPast.co.uk, thegenealogist.co.uk and genesreunited.co.uk. The 1911 census is available in full or in part on some of these sites. We are unable to advise on the choice of site since researchers' personal preferences will be influenced by the content and search facilities offered by each site. Some sites offer a free trial.
Access to the library edition of Ancestry.co.uk is widely available at most record offices, including Worcestershire Archives, and some libraries. You are advised to book time on their computers before making a visit.
A free-to-view site is being developed at freecen.org.uk for the 1841, 1851, 1861, 1871 and 1891 censuses. Coverage of Worcestershire parishes is rather sparse at this time.
Census returns can usually be viewed at Church of Jesus Christ of Latter Day Saints' Family History Centres.
Some repositories offer census details on microform, disc or printed copy. These include:
1841 1901 at Worcestershire Archives [14]
1861 - 91 Gloucestershire Archives
Directories
An extract from the Topographical Dictionary of England 1831 by Samuel Lewis:

WASHBOURN (LITTLE), a chapelry in the parish of OVERBURY, middle division of the hundred of OSWALDSLOW, county of WORCESTER, 6½ miles (E. by N.) from Tewkesbury, containing 55 inhabitants.
Last Updated: 29/07/2012