Grafton Manor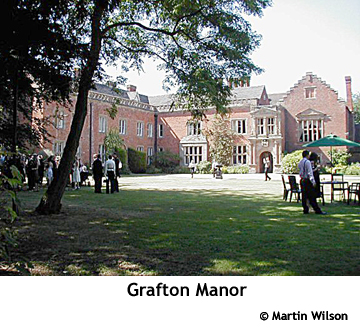 Quick Links
Ecclesiastical Jurisdiction
Nonconformist
Roman Catholic Chapel: Births/Christenings 1722-45, 1796 & 1806-43 Christenings 1843-63 Marriages 1839-62 Deaths 1806-30. Communicants 1807-30 Confirmations 1807-50 (gaps) & 1855.

Grafton Manor Chapel was a private chapel of the Earls of Shrewsbury. It was used for Catholic worship until 1858 when a new church was begun at Bromsgrove. Worcestershire Archives [30]
Census Records
All the censuses between 1841 and 1901 are now available on a number of fee-paying (Subscription or PayAsYouGo) sites including Ancestry.co.uk, FindMyPast.co.uk, thegenealogist.co.uk and genesreunited.co.uk. The 1911 census is available in full or in part on some of these sites. We are unable to advise on the choice of site since researchers' personal preferences will be influenced by the content and search facilities offered by each site. Some sites offer a free trial.
Access to the library edition of Ancestry.co.uk is widely available at most record offices, including Worcestershire Archives, and some libraries. You are advised to book time on their computers before making a visit.
A free-to-view site is being developed at freecen.org.uk for the 1841, 1851, 1861, 1871 and 1891 censuses. Coverage of Worcestershire parishes is rather sparse at this time.
Census returns can usually be viewed at Church of Jesus Christ of Latter Day Saints' Family History Centres.
Some repositories offer census details on microform, disc or printed copy. These include:
1841 71 91 1901 at Worcestershire Archives [14]
Manorial Records
Worcestershire Archives [50]
Court rolls 1427-1648; Court rolls, presentments and other documents 1427-1685; Rentals 1453/4-1490/1; Plan 1871; Survey 1871
Directories
An extract from the Topographical Dictionary of England by Samuel Lewis 1831:

GRAFTON-MANOR an extra-parochial liberty, in the upper division of the hundred of HALFSHIRE, county of WORCESTER, l¾ mile (W.S.W.) from Bromsgrove, containing 45 inhabitants. The ancient mansion of the Earls of Shrewsbury at this place was nearly destroyed by fire in 1710, and the only part now remaining is the hall, but this is sufficient to show its former splendour. There is a Roman Catholic chapel, which has been recently repaired and ornamented by the present earl.
Last Updated: 25/07/2012