Evenlode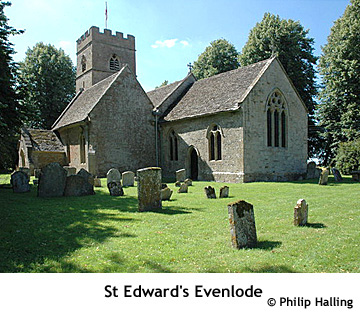 Quick Links
Ecclesiastical Jurisdiction
Archdeaconry & Diocese of Worcester until 1919, when transferred to the Diocese of Gloucester.[5] [25]
Hundred
In Upper Oswaldslow, Worcestershire though locally in Upper Westminster, Gloucestershire [44] [25]
Adjoining Parishes
Blockley; Lower Lemington (Gloucestershire); Todenham (Gloucestershire); Chastleton (Oxfordshire); Adlestrop (Gloucestershire); Oddington (Gloucestershire); Broadwell (Gloucestershire); Donnington (Gloucestershire); Longborough (Gloucestershire); Moreton-in-the-Marsh (Gloucestershire); Batsford; Little Compton (Warwickshire) [1]
Parish Registers at Worcestershire Archives
No parish registers held at Worcestershire Archives. The original registers are at Gloucestershire Archives
International Genealogical Index (IGI)
| | | |
| --- | --- | --- |
| | | Coverage |
| Parish Registers | Births / Christenings | 1612- 1700, 1737-1875 |
| | Marriages | 1562-1885 |
Register Copies
At Gloucestershire Archives :
Christenings 1562-1909 Marriages 1562-1975 Burials 1562-1992
Transcript: Christenings, Marriages & Burials 1562-1721
Gloucestershire FHS marriage index: 1800-37

At Society of Genealogists [68] :
EVENLODE : 1604-33, 1639, (1649-58 odd entries), 1660-63, 1671-88, 1696-1909, Marriages 1562-1635, 1661-1837, B 1561-1636, 1647, 1650, 1652, 1660, 1662-1812, banns 1754-1816 [Microfiche.] Published Gloucester : Gloucestershire Record Office, 1998 Source S: A Thompson. EVENLODE (St. Edward) : Marriages 1800-37: Gloucestershire marriages, vol. 19 [Typescript.] IN: Gloucestershire marriages, vol. 19 Published , 1987 Author Gloucestershire FHS (transcriptions) Source D: Gloucestershire FHS
Census Records
All the censuses between 1841 and 1901 are now available on a number of fee-paying (Subscription or PayAsYouGo) sites including Ancestry.co.uk, FindMyPast.co.uk, thegenealogist.co.uk and genesreunited.co.uk. The 1911 census is available in full or in part on some of these sites. We are unable to advise on the choice of site since researchers' personal preferences will be influenced by the content and search facilities offered by each site. Some sites offer a free trial.
Access to the library edition of Ancestry.co.uk is widely available at most record offices, including Worcestershire Archives, and some libraries. You are advised to book time on their computers before making a visit.
A free-to-view site is being developed at freecen.org.uk for the 1841, 1851, 1861, 1871 and 1891 censuses. Coverage of Worcestershire parishes is rather sparse at this time.
Census returns can usually be viewed at Church of Jesus Christ of Latter Day Saints' Family History Centres.
Some repositories offer census details on microform, disc or printed copy. These include:
1841 1901 Worcestershire Archives [14]
1851- 91 Gloucestershire Archives
At Society of Genealogists :-
Gloucestershire 1851 Census index & transcription Vol 11 : HO 107/1970 - [Stow on the Wold registration district] Bourton on the Water & Stow on the Wold sub-districts - Worcestershire Part [Microfiche.] - Published Gloucestershire FHS, 1997
Gloucestershire 1891 census returns: Stow on the Wold registration district RG 12/2037-2038 [Microfilm.] - Published London Public Record Office 2003
Directories
An extract from the Topographical Dictionary of England by Samuel Lewis 1831:

EVENLOAD, a parish in the upper division of the hundred of OSWALDSLOW, county of WORCESTER, though locally in the upper division of the hundred of Westminster, county of Gloucester, 3 miles (S.E.) from Moreton in the Marsh, containing 297 inhabitants. The living is a rectory, in the archdeaconry of Gloucester, and diocese of Worcester, rated in the king's books at £11. 11. 8, and in the patronage of Joseph Pitt, Esq. The church is dedicated to St. Edward.
Last Updated: 24/07/2012