Churchill & Blakedown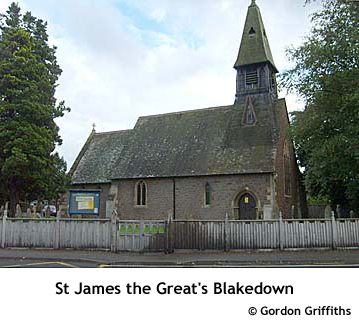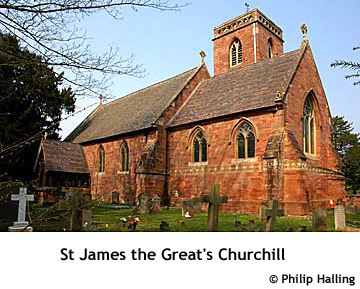 Quick Links
Location
Churchill
O.S. Ref: SO879793
Blakedown
O.S. Ref: SO881785
About 3½ miles N.E. of Kidderminster along the A456
Census Records
All the censuses between 1841 and 1901 are now available on a number of fee-paying (Subscription or PayAsYouGo) sites including Ancestry.co.uk, FindMyPast.co.uk, thegenealogist.co.uk and genesreunited.co.uk. The 1911 census is available in full or in part on some of these sites. We are unable to advise on the choice of site since researchers' personal preferences will be influenced by the content and search facilities offered by each site. Some sites offer a free trial.
Access to the library edition of Ancestry.co.uk is widely available at most record offices, including Worcestershire Archives, and some libraries. You are advised to book time on their computers before making a visit.
A free-to-view site is being developed at freecen.org.uk for the 1841, 1851, 1861, 1871 and 1891 censuses. Coverage of Worcestershire parishes is rather sparse at this time.
Census returns can usually be viewed at Church of Jesus Christ of Latter Day Saints' Family History Centres.
Some repositories offer census details on microform, disc or printed copy. These include:
Churchill & Blakedown 1841 1861-91 1901 Worcestershire Archives [14]
Blakedown 1881 Worcestershire Archives [14]
1851 census Worcestershire, vol. 2 Kidderminster : transcript & surname index: Chaddesley Corbett, Rushock, Stone, Broom, Churchill, Wolverley - Published Birmingham : Birmingham & Midland Society for Genealogy & Heraldry, 1992 - Author: Friend, A F Society of Genealogists
Parish Records on microform
At Worcestershire Archives [13]
Blakedown - Graves & burials 1933-65; Offertory account book 1860-72, 1868-73; Preachers book 1872-85
Register of services 1920-30
Vestry meeting minute book 1849-1922
Tithe rent charge book 1842-88
Schools Records
The following school records are original documents. Note reference number and contact staff at Worcestershire Archives:
Churchill C E School
Log book - 1926-61 - 3543
Log books - 1881-1926 - Ref: BA 3536
Pre-school age admission register - 1945-48 - 3766/2
The records of schools and other educational establishments in this parish are detailed in a handlist available at Worcestershire Archives. The list refers to original documents so you will need to note the reference number and contact staff.
Last Updated: 25/01/2016