Barnt Green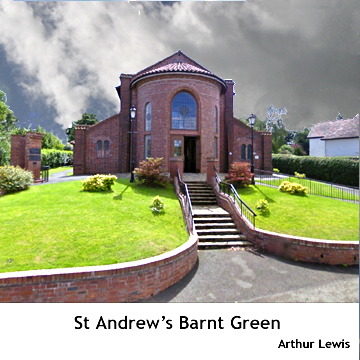 Quick Links
Descriptive Notes
Barnt Green is in the County of Worcester, but the Diocese of Birmingham. It has always been a commuter settlement; most of the village being a product of the 20th century, with many of the present dwellings and buildings being constructed between the wars, and most of the remaining houses built in the 1940s and 1970s.
Ecclesiastical Jurisdiction
Diocese of Birmingham [25]
Parish Registers at Worcestershire Archives
| | | Coverage | Source |
| --- | --- | --- | --- |
| Originals | Marriages | 1920-69 | [12] |
| | Banns | 1920-90 | [12] |

Some original registers are still at the church
Monumental Inscriptions and Associated Documents
At BMSGH Shop
St.Andrew

At BMSGH Reference Library [7]
St Andrew

At Worcestershire Archives [51]
St.Andrew

BARNT GREEN (St. Andrew) : Monumental Inscriptions: Worcestershire monumental inscriptions vol. 13 [Typescript.] IN: Worcestershire monumental inscriptions vol. 13 Published Birmingham : Birmingham & Midland Society for Genealogy & Heraldry, 1994 Author Farmer, G R (trans.) Acc. no. 77223 Source D: Birmingham & Midland Society for Genealogy & Heraldry Society of Genealogists [59]
Census Records
All the censuses between 1841 and 1901 are now available on a number of fee-paying (Subscription or PayAsYouGo) sites including Ancestry.co.uk, FindMyPast.co.uk, thegenealogist.co.uk andgenesreunited.co.uk. The 1911 census is available in full or in part on some of these sites. We are unable to advise on the choice of site since researchers' personal preferences will be influenced by the content and search facilities offered by each site. Some sites offer a free trial.
Access to the library edition of Ancestry.co.uk is widely available at most record offices, includingWorcestershire Archives, and some libraries. You are advised to book time on their computers before making a visit.
A free-to-view site is being developed at freecen.org.uk for the 1841, 1851, 1861, 1871 and 1891 censuses. Coverage of Worcestershire parishes is rather sparse at this time.
Census returns can usually be viewed at Church of Jesus Christ of Latter Day Saints' Family History Centres.
Some repositories offer census details on microform, disc or printed copy. These include:
1881 at Worcestershire Archives [14]
Schools Records
The records of schools and other educational establishments in this parish are detailed in a handlist available at Worcestershire Archives. The list refers to original documents so you will need to note the reference number and contact staff.
Last Updated: 06/10/2016